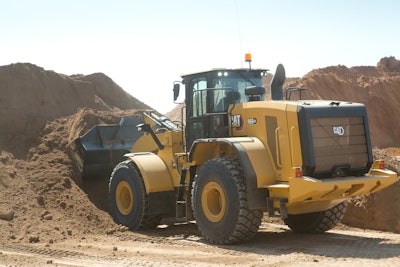 Caterpillar
Caterpillar, one of the world's largest manufacturers of earthmoving equipment, has reportedly reached a tentative agreement with union members at four of its plants, avoiding a possible strike.
Union members will review the tentative agreement and set a vote at upcoming ratification meetings, according to statements from United Auto Workers and Caterpillar. No details of the agreement have been released.
The current six-year contract that covers nearly 7,000 employees expired March 1. Negotiations have been ongoing since early January. Union members cast ballots on a strike authorization vote January 27 that reportedly picked up a 98% approval. That vote did not call for a strike but gave UAW officials the ability to do so if deemed necessary.
Prevention of a potential work stoppage comes on the heels of the company celebrating what Chairman and CEO Jim Umpleby described as "one of the best years in [the company's] nearly 100-year history" in 2022. Full-year sales and revenues in 2022 were $59.4 billion, up from $51 billion in 2021.
Just as Caterpillar and UAW were starting negotiations on a new agreement, UAW leadership agreed to a new contract with CNH Industrial, the manufacturer of Case and New Holland construction and agricultural machinery, after a nearly nine-month strike. According to UAW officials, the new CNH contract provided wage increases, shift premium increases, classification upgrades as well as other improvements. The CNH strike came seven months after a similar challenge by 10,000 John Deere workers in October 2021. That strike lasted five weeks and concluded with employees receiving 10% raises and improved retirement benefits.
Caterpillar is no stranger to having workers on strike at its facilities. Throughout the 1960s and '70s, the company and UAW were in a pattern of an agreement ending, a strike occurring and approval of a new contract. As occurred in other industries, strikes were simply part of the overall negotiation tactic at that time.
Layoffs during some harder financial times for Caterpillar in the 1980s led to another strike. However, the worst strike for the company was in 1994. Three years prior, Caterpillar leadership altered an existing agreement with reduced wage increases. An unsuccessful five-month strike in 1992 was held, ending with no new agreement in place.
Two years later, UAW workers banded together again as more than 10,000 employees went on strike over unfair labor practices in 1994. The failed efforts came to an end after 17 months. Over the last 20 years, there has been a seven-month ordeal in 2004 with UAW and a couple of labor contract issues with the International Association of Machinists and Aerospace Workers.
As to its position on strikes, Caterpillar does not shy away from acknowledging its intended approach. All its likely actions are explained on its website. The company states that its goal is to reach a competitive agreement and avoid a strike while adding that the continued operation of facilities is also paramount.
According to Caterpillar, steps have been taken to prepare a contingent workforce made up of support, management and contract workers should a work stoppage or strike occur in this instance or at some other point. In addition, the company says there is a chance that healthcare coverage would be lifted should a strike occur. Since the agreement was approved in 2017, UAW members have been covered under the same healthcare plan as salaried and management employees.
Caterpillar says there have been 14 wage adjustments in the last 17 years, including two between November 2021 and July 2022 that resulted in an 8% increase.
Before the tentative agreement was announced, a rank-and-file committee of Cat workers make its own statement of demands that called for a reversal of parts of past contracts, including elimination of the wage and benefit tier system, increased time off and reduced healthcare premiums.