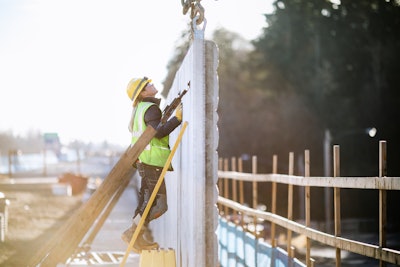 Getty Images
What do women in construction want?
A good salary might get them through the door, but career advancement opportunities, investment in training and work-life balance play a critical role in ensuring women stay in the industry and thrive, according to a new report from The National Center for Construction Education and Research and Ambition Theory.
The survey of nearly 800 women across all sectors, roles, ages and experience levels explored the shared experiences of women in construction and identified ways companies can improve their workplace cultures, create more inclusive experiences for all employees, and better attract and retain women.
Leadership
Among the women surveyed, those with less than one year of work experience ranked "salary" as the top factor when selecting an employer. Meanwhile, those with more than one year of experience unequivocally ranked "seeing a clear path to career advancement" as the most important factor when seeking new job opportunities.
Despite this ambition, the report says, women still don't advance at the same rate as their male counterparts. In fact, 72% of the women surveyed have rarely or never had a woman manager or supervisor. This indicates a lack of sponsorship as an obstacle to women's career progression.
"Unlike mentors who offer advice and share stories, sponsors actively advocate for women, extend invitations to key meetings, and invest in their success. By providing exposure to new opportunities and endorsing women's capabilities, sponsors can play a pivotal role in accelerating women's path to leadership," said Andrea Janzen, Ambition Theory founder and CEO.
The problem, the report says, is that women receive sponsorship half as often as mentorship. Companies looking to advance more women into leadership positions should shift from a mentorship mindset, to one of sponsorship.
Training
One of the keys to career advancement is training, and the report highlights the need to make training more accessible to women and tailored to their unique needs. Young women tend to have less exposure to construction than their male counterparts. Investing in training helps women build the skills they need to get ahead while helping to retain and advance more women into leadership positions.
"While salary is the primary motivator for women getting into the construction industry, once they are in, career advancement becomes the reason they stay. Training is one way for companies to show their commitment to providing growth opportunities to their employees," said Tim Taylor, Director of Research at NCCER.
Work-Life Balance
Women in construction also place high importance on work-life balance. Of survey respondents, 45% of women are uncomfortable, hesitant or only comfortable sometimes asking for a work schedule adjustment for family matters.
Women want to advance their careers without sacrificing their personal and family lives, and flexible work options can effectively ensure that balance. But having flexible work options is not about working from home – it's about the availability of work options that balance the needs of employees, team members and the realities of project schedules.
"We risk losing women in the industry because they get burnt out proving themselves, focusing on improving their weaknesses or spending too much time on things that don't interest or motivate them. When can women stop pushing themselves to round out their experiences and move on to maximizing their strengths," said one Ambition Theory training participant.
The Building Better report acknowledges that there will inevitably be differences between flexibility options for office and field employees, but that does not mean improvements can't be made. The research compiles suggestions employers should consider around workday hours, time off and childcare options.
To download Building Better: A Women in Construction Study, go to https://ambitiontheory.com/building-better-report/.