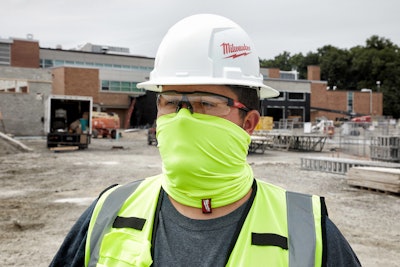 Milwaukee Tool is expanding its work wear lineup to include a new neck gaiter for face, neck and head protection.
Neck gaiters are becoming more popular as the coronavirus pandemic leads to face mask requirements, including for construction workers. Milwaukee Tool doesn't mention the pandemic in its marketing. It touts the garment's cooling properties.
The company says the Multi-Functional Neck Gaiter is made from "a moisture-wicking, breathable blend of lightweight polyester and spandex."
"The gaiter is designed to keep users dry and comfortable all day with UPF 50+ sun protection and odor-resistant technology."
It can be worn as a face covering, headband, neck guard or other ways, the company says. It is safe for washer and dryer and will come in Hi-Vis, gray and red colors.
Milwaukee Tool says the gaiter will be available for purchase at select distributors beginning in September at a price of $14.97.
For more cooling products, including neck gaiters, check out our 29 gadgets for keeping cool while working in the heat.