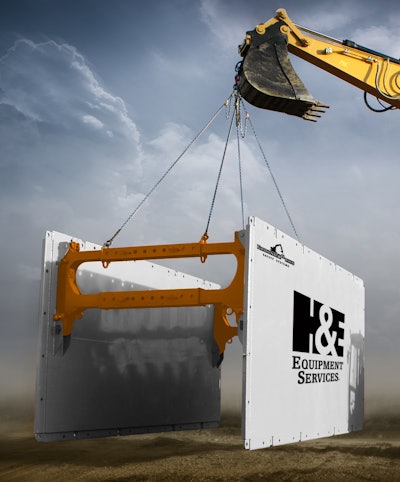 H&E Equipment Services will partner with GroundWorks Safety System, entering the specialty rental business with a trench safety line.
With the agreement, H&E has the exclusive U.S. rights to provide GroundWorks trench boxes, which are designed to be easily assembled on the job.
GroundWorks boxes can be assembled in under 15 minutes using one machine, one operator and one worker, says the company. The pre-engineered, high-tensile steel trench boxes lock tight the moment they are lifted, and are designed to eliminate dangerous set-up and take-down tasks. "Workers no longer need to be under a suspended load or in the line of fire," says H&E.
"Over the last three years we've expanded our fleet of earthmoving products to all branches across the U.S., positioning us to enter the specialty market," says Brad Barber, H&E president and CEO. "We have a long history in dirt, and GroundWorks offered the right product and reliability to enhance our earthmoving business."
Barber continues: "We had been planning our entry into the specialty rental business, and GroundWorks offered the product solution and culture to come alongside us to reach pipeline, oil and gas, chemical, industrial and civil projects."