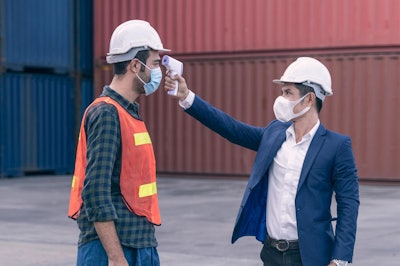 President Joe Biden has issued an executive order to review workplace guidelines and enforcement to prevent Covid spread, and possibly roll out emergency temporary standards.
The January 21 order calls for the U.S. Department of Labor to issue revised Covid guidance for employers within two weeks, as well as determine whether emergency temporary standards are needed. The emergency temporary standards must be issued by March 15 if deemed necessary.
The order also calls for launching a national program to focus enforcement efforts on workers at serious risk of becoming infected, such as those working close to others for extended periods. It also calls for a review of current OSHA enforcement to determine if any changes need to be made to better protect workers.
"The Federal Government must take swift action to reduce the risk that workers may contract Covid-19 in the workplace," Biden's order states. "That will require issuing science-based guidance to help keep workers safe from Covid-19 exposure, including with respect to mask-wearing; partnering with state and local governments to better protect public employees; enforcing worker health and safety requirements; and pushing for additional resources to help employers protect employees."
Dr. David Michaels, of Biden's Covid task force and former OSHA director under President Obama, said during an NPR interview January 23 that OSHA was likely already working on the emergency temporary standards, and they would provide "clear requirements to protect workers." He said he expected that to include requiring employers to develop workplace infection-control plans that would require masks, social distancing, ventilation and disinfection.
A construction contractor advocacy association, however, is concerned Biden's order could lead to unfair mandates on the industry.
"There would certainly be value in giving contractors clear, specific guidance about how to protect workers and communities from the coronavirus," says a statement from the Associated General Contractors. "However, we remain worried that Biden administration officials will seek to use the standard to advance their anti-open-shop agenda and/or include unrealistic mandates that could undermine opportunities for construction employment to rebound."
The AGC hoped any new standard would incorporate actions the industry has already taken to combat the virus.
OSHA issues $4 million in Covid penalties
OSHA last issued revised Covid guidance May 19 and has not adopted emergency standards during the pandemcic. The last revision loosened employers' reporting requirements for worker Covid infections due to the potential difficulty of determining how a worker contracted the illness.
OSHA, however, has been enforcing its Covid guidelines, as well as General Duty Clause requirements that relate to Covid. The General Duty Clause states that employers provide workplaces "free from recognized hazards that are causing or are likely to cause death or serious physical harm."
The agency has issued more than $4 million in penalties against employers, as of January 14, for Covid-related violations, according to OSHA online data. Most of the violations have focused on the health care industry. The construction industry has not been a primary target of the federal agency's Covid enforcement, as other industries have garnered more complaints.
According to OSHA, 388 complaints have been filed within the construction industry during the pandemic for possible Covid violations, as of January 24. That compares to 2,939 for health care; 1,567 for retail; and 798 for restaurants.
The average proposed penalty has been about $13,000.
The top violations, according to OSHA, have been for failing to:
OSHA construction guidance
OSHA has issued the following guidance to reduce Covid spread on construction sites:
Encourage workers to stay home if they are sick.
Allow workers to wear masks over their nose and mouth to prevent them from spreading the virus.
Continue to use other normal control measures, including personal protective equipment (PPE), necessary to protect workers from other job hazards associated with construction activities.
Advise workers to avoid physical contact with others and direct employees, contractors and visitors to increase personal space to at least six feet, where possible. Where work trailers are used, all workers should maintain social distancing while inside the trailers.
Train workers how to properly put on, wear and take off protective clothing and equipment.
Encourage respiratory etiquette, including covering coughs and sneezes.
Promote personal hygiene. If workers do not have immediate access to soap and water for handwashing, provide alcohol-based hand rubs containing at least 60 percent alcohol.
Use Environmental Protection Agency-approved cleaning chemicals from List N or that have label claims against the coronavirus.
To the extent tools or equipment must be shared, provide and instruct workers to use alcohol-based wipes to clean tools before and after use. When cleaning tools and equipment, workers should consult manufacturer recommendations for proper cleaning techniques and restrictions.
Keep in-person meetings (including toolbox talks and safety meetings) as short as possible, limit the number of workers in attendance and use social distancing practices.
Clean and disinfect portable jobsite toilets regularly. Hand sanitizer dispensers should be filled regularly. Frequently touched items (i.e., door pulls and toilet seats) should be disinfected.
Encourage workers to report any safety and health concerns.