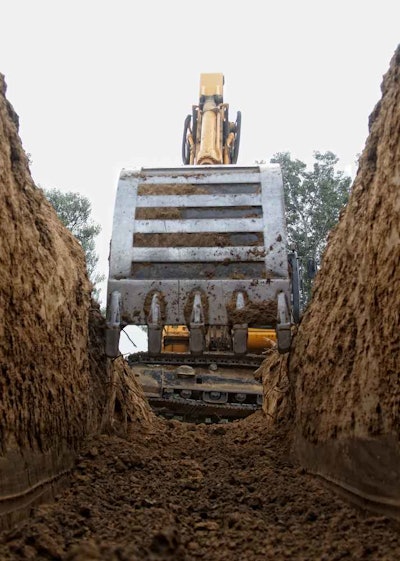 An Oklahoma contractor faces proposed penalties of $205,000 after workers were found in trenches that were not protected from cave-in and had standing water in them, according to the U.S. Occupational Safety and Health Administration.
OSHA citations issued March 3 contained repeat violations for Cherokee Pride Construction of Sapulpa, which was cited in 2017 for similar infractions, OSHA records show.
During a period before and after September 11, 2020, Cherokee workers were in two trenches installing water lines for a street widening project in Broken Arrow, according to OSHA.
The trenches did not have cave-in protection; there was no proper means of escaping the trenches, and workers were not wearing hard hats, the citation said. Employees had also not been instructed on struck-by hazards; ladders were being used on unstable surfaces and had structural defects, and an excavator was stationed on the edge of the trench exposing workers to struck-by hazards. The company also failed to provide injury and illness logs within four business hours of being requested by OSHA, the agency says.
According to OSHA records, the repeat violations in the recent citations stemmed from the following incidents:
Three violations issued in May and December 2017 in which the company did not provide cave-in protection for workers;
Two violations issued in May and November 2017 for not providing a safe exit from a trench;
A violation issued in May 2017 for failure to protect workers from accumulated water in a trench and from struck-by hazards;
A violation issued in November 2017 for improper use of a ladder.
The company was fined a total of $25,000 for the 2017 violations, according to OSHA.
For more on the business and human costs of trench-collapse fatalities, see Equipment World's special report "Death by Trench."
[Related: "Death by Trench"]