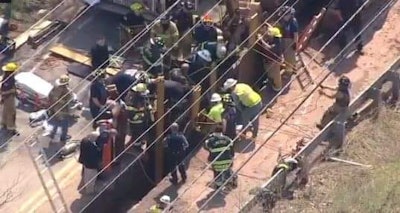 Sanatoga Fire Company
Within a week, one contractor was fined $135,612 for a fatal cave-in, a worker died in a trench, and a trapped worker was rescued.
Contractor fined after 2 die
On March 31, a contractor reached a settlement for a $135,612 fine with the U.S. Occupational Safety & Health Administration, after two workers died in a collapse of a 30-foot-deep cesspool excavation on Long Island, New York.
The cave-in occurred January 28, 2020, taking the lives of Max Antonio Turcios Chavez, 46, and Deniz Dos Santos Almeida, 57, who were installing cesspool rings. Both men were buried under 5 feet of mud and sand.
Chavez was uncovered by rescue workers the day of the collapse, but because of darkness and the conditions of the trench, rescue workers had to postpone the search for Almeida until the next day, when his body was recovered.
Almeida's obituary said he was a foreman for RC Structures of Roslyn for many years. He leaves behind a wife, son and daughter-in-law.
Chavez's funeral was held in Honduras, according to his obituary.
RC Structures failed to provide trench protection and to remove the workers after another employee warned the company of the cave-in hazard, according to OSHA. Concrete and excavated materials were also placed at the edge of the excavation, and there was no ladder or other safe way for the workers to get out of the hole, the agency said. The workers also were not wearing hard hats and were beneath an excavator bucket.
RC initially faced penalties of $202,407 for one willful and five serious violations. The company contested the violations and reached the $135,612 settlement. OSHA says RC Structures must also abide by the following stipulations of the settlement:
Develop an excavation safety checklist to identify hazards and protective measures for work in excavations and ensure that a competent person on site will consult and complete the checklist whenever employees enter excavations.
Engage a qualified professional safety and health consultant to conduct at least one on-site assessment of excavation safety while employees are performing work in an excavation.
Provide company-wide training on ladder safety and hardhat use to its employees.
"No settlement can undo the collapse and its consequences, but it obligates this employer to corrective actions to enhance safe work in excavations and prevent future collapses, injuries and deaths," said regional Solicitor of Labor Jeffrey S. Rogoff in New York City.
Worker, 21, dies
On April 5, a 21-year-old worker died after being buried alive in a trench collapse in Corpus Christi, Texas.
Jason Villalobos was reportedly inside a 10-foot-deep trench for a duct project when the collapse occurred. An extensive recovery effort followed the collapse. OSHA is reportedly investigating.
Worker rescued
Then on April 7, a worker in Lower Pottsgrove, Pennsylvania, was trapped in a collapsed trench, but survived after an hourlong rescue operation.
After being extricated, the worker was flown by helicopter to a local hospital, according to the Sanatoga Fire Company. Workers were installing a water line when the trench collapsed.