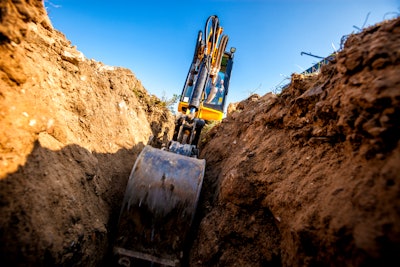 Getty Images
An Illinois contractor who reportedly ignored a city engineer's repeated verbal and written instructions to use trench cave-in protection has reached a settlement with the U.S. Occupational Safety & Health Administration.
Based on a referral by City of Waterloo, Illinois, officials, the preliminary investigation by OSHA inspectors found Groundworks Contracting Inc. to be in violation of protecting workers from potential trench cave-ins on a least five occasions.
Following its investigation, OSHA cited Groundworks Contracting for one willful, four serious, and one other-than-serious violation of federal trenching and excavation standards. The proposed penalties against the company totaled $77,147.
A willful violation occurs when an employer knowingly fails to comply with a legal requirement or acts with indifference to employee safety. A serious violation occurs when the hazard would most likely cause death or serious harm, except if the employer did not or could not have known about the violation.
Inspectors determined Groundworks Contracting put workers at risk by failing to provide required cave-in protection and head protection and by not training employees to recognize cave-in hazards.
In addition, OSHA found Groundworks had no competent person on site to inspect trenches before workers entered and, on one occasion, failed to protect a laborer as they were hoisted in an excavator's bucket to work over a 15-foot-deep trench.
"With help from a concerned City of Waterloo engineer, our inspectors were able to hold Groundworks Contracting Inc. accountable for its failure to protect employees from the threat of trench collapse, one of the construction industry's most lethal hazards," said OSHA Area Director Aaron Priddy in Fairview Heights, Illinois. "Despite warnings from local authorities, this contractor's callous lack of concern for their employees' safety and well-being is hard to imagine."
An appeal hearing in June led to a settlement with a reduction of penalties to $41,185.
The compromise included dropping the minor violation of the company failing to submit its annual safety forms. According to reports, the forms were submitted past the deadline.
In addition, company owner Jason Richter told the Belleville News-Democrat that the company created a new safety director position to assist with safety measures moving forward.
Richter indicated he was pleased with the compromise and said that ensuring everyone goes home to their families every night and general safety are important to Groundworks Contracting.
Related Content: Trench-Collapse Survivor Tells His Story to Help Others
He also said OSHA worked with them as it was their first violation in nine years of being in business.
The violations against the company revolved primarily around trench safety.
Trench collapses are among the construction industry's most deadly hazards. In 2022, 39 workers suffered fatal injuries in trenching and excavation work.
Standards require protective systems on trenches deeper than 5 feet, and soil and other materials kept at least 2 feet from the edge of a trench.
Additionally, trenches are to be inspected by a knowledgeable person, be free of standing water and atmospheric hazards and have a safe means of entering and exiting prior to allowing a worker to enter.